Another training flight brought us out to the airport around 8:00 AM in hopes of getting up in the air before the winds picked up from the convective weather we had been experiencing throughout the last few days.  After a preflight and filling up the plane with gas we headed out back taxing on KCQM to runway 13 for a departure into a quartering headwind.  Upon lift off we headed southeast towards the Laurentian Divide over some of the open pit taconite mines which are impressive from the air.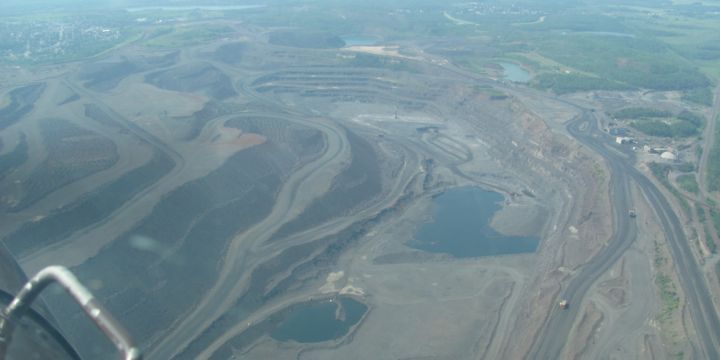 During the flight it was noticably hazy.  Visablity wasn't an issue, but it sure cut down on the crisp views I was accustom to flying in the beautiful northern minnesota skies.  We continued on our way over to Eveleth (KEVM) where we went in for a landing.  We took this flight to pick up our own copies of the updated charts for our area.  It is amazing how quickly they need to be changed out.  At $9 a copy it beats out ordering them from Sporty's that also charges shipping on the same price.  With our newly acquired charts stuffed into my flight bag we hopped back in the plane and took off.  There was another student pilot out practicing while we were in buying maps.  It was fun to see another person learning the same thing.  I watched a couple of their landings and they sure made them look a heck of a lot better than I was consistently producing.
From KEVM we headed north west to Tower (12D).  The flight over was quick.  The nice thing about flying to Tower is you have Lake Vermilion as a huge landmark making it easy to find the runway.  Tower's runway is right on the water with a hill along the south side which causes the 26 approach to be a right hand pattern.  On this day however the wind favored runway 8 so it was a left hand pattern as normal.  The thing about landing here is that your final approach is over the lake.  This is a bit unnerving thinking about your options if you were to have an engine failure.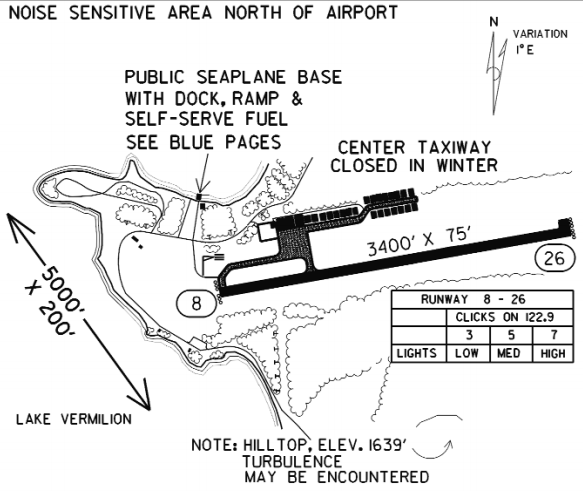 After a couple of landings in Tower we headed west to Orr (KORB).  This takes you across Lake Vermilion.  It really is fun flying over the lake and looking at all of the bays, islands, and houses sprinkled around the edges of mainland as well as the islands.  This 30 mile long lake offeres up some great views.  I happen to live on the western edge of the lake so we took a bit of a detour on our way to Orr to do a bit of a fly over.  In doing so we found that our neighbor was just putting in a new dock.  The barge with a crane on the front was just finishing up placing it in front of the boat house.  We headed out from there to Orr, which like Cook (KCQM) has a pretty much brand new runway surface.  My first landing at or on this flight was my best one yet.  I really greased it with a little squeak of the tires.  It sure feels good when you set the plane down so smoothly.  After a couple more touch an goes we headed back to KCQM and logged a total of 2.2 hours of dual and 7 more landings.